Facebook's CEO Mark Zuckerberg announced the Oculus Quest all-in-one gaming system at the beginning of the Oculus Connect 5 keynote.
According to Zuckerberg's statement at the Oculus Connect developer's conference, the new Oculus flagship will ship in spring 2019 and it will be available at a price of $399.
"Offering six degrees of freedom and Touch controllers, Oculus Quest makes it easy to jump right into the action—with no PC, no wires, and no external sensors," says the official announcement on Oculus' blog.
Furthermore, the company also announced that they have over 50 game titles already lined up for the official launch of the Oculus Quest VR gaming system, with The Climb, Robo Recall, and Moss being just three of them.
The Oculus Quest features six degrees of freedom, built-in audio, and high-quality optics, virtually eliminating phones, wires, or PCs out of your virtual reality playing field.
The Oculus Quest allows you to play VR games without needing a PC or external sensors
The new VR headset uses four ultra wide-angle sensors which are designed specifically for precisely mapping your surrounding environment, allowing you to effortlessly navigate through and around it.
Additionally, Oculus Quest comes with support for the Oculus Insight tracking tech that automatically translates your every movement into an in-game movement for seamless real-time translation of every flick of your arm.
Moreover, the Oculus Touch controllers which come bundled with the Oculus Quest all-in-one VR gaming system will also add some extra fun to your games, translating every gesture you make instantaneously.
The just unveiled wireless Oculus Quest device completes Facebook's VR headset lineup, with the Oculus Go being the most affordable of the three and the Oculus Rift makes it possible to take advantage of all the power offered by your PC.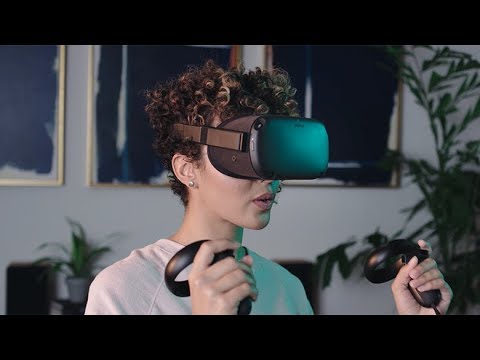 Play Video